Customer Reviews
08/18/2020
Tracy J.
United States
Soul Sister Pink Mask
I absolutely love my new mask. I wore it with my walking mate. It was very comfortable on my face and I love the individual filters that came with the order.
07/29/2020
Anonymous
United States
Cute and Comfortable
I've used this mask over the last three weeks. It fits perfectly and is one of my top 2 most comfortable masks. I've also received several compliments. You can't go wrong with this cute and comfortable mask.
07/18/2020
Sonya H.
United States
Good quality!
Love the design and the feel of the material..
07/16/2020
Ashley
United States
LOVE MY MASK!
I love this mask. I am so glad I purchased it a month ago. Everywhere I go, I get so many compliments and inquiries on where I bough it. In addition I love, love, love the adjustable bands. When this item comes back in stock, I will be buying another one.....and don't forget the filters!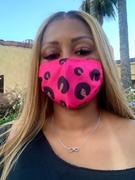 07/07/2020
Wanda B.
United States
My favorite mask!
It's stylish, and it's very comfortable. The pink color pops and the fact that it comes with filters a and it has a filter pocket is amazing! I've hand washed my mask several times after wearing it and the pink color is still vibrant. Hopefully the purple and orange masks will be restocked so that I can purchase a couple more.