Customer Reviews
01/07/2020
Courtney E.
United States
Amazing As Always!!
I first found BD about 2-3 years ago. I purchased a bookbag for my son. My son is rough on everything and nothing ever lasts for very long. His BD bookbag lasted the entire school year without being ripped or fading! This school year I decided to purchase from another company just because I wanted to support another Black Owned Business. I won't say it was a mistake, but I will say by October we no longer had a bookbag. With that I said forget it, my son will be wearing BD bookbags from now on as long as they are making them!!! I love the products shipping time has greatly improved since they first started. We have a bookbag, lunch bag, I'll be purchasing a bag for me and my new heart baby!! Thank you so much BD!!
09/16/2019
Fathia H.
United States
Excellent Lunchbox
Lunchbox is great and it shipped quickly! No complaints.
09/09/2019
Paris C.
United States
L O V E #supportblackowned
So bomb!! Please if you see this & you're indecisive , just go with it.
09/02/2019
Clarice R.
United States
Great quality products/Great customer service
I bought several items. All items were detailed, plush, and sturdy, for such an affordable price. I also ordered and received those items within the same week. It was an overall great experience. My son loves, and is so proud of his backpack! I'll be purchasing more items very soon.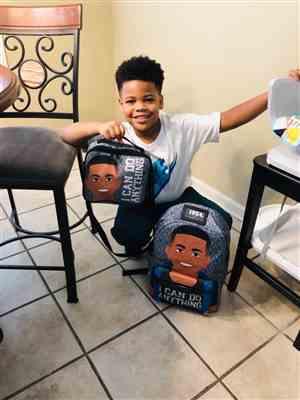 08/30/2019
Angela F.
United States
Totally Satisfied!!!
Awesome! This item is everything we expected and more. Very well made and sturdy. My son and I are VERY pleased with these items.